NRC(A) Ch & Dual Ch (T) Svawill Questra TSD HT
NRCA Ch & Dual Ch (T) Svawill Questra TSD HT RUBISS National Brood Bitch in Specialty Show, National Best Junior in Show, Multi CISS Multi V1 & Multi V Rated
"Lu Lu"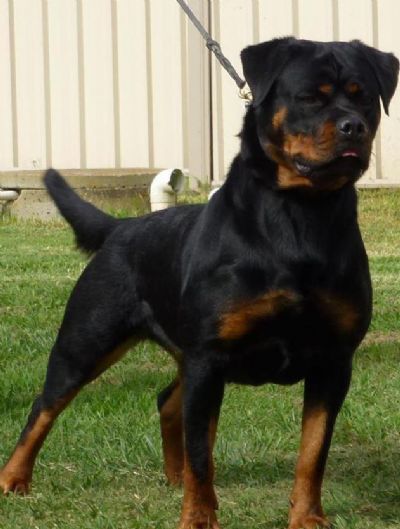 U

Lu Lu was one of 8 litter mates from the very successful Svawill Q litter, bred by Mick Svaljek at Svawill Rottweilers.

Sire: Multi V Rated Svawill Logan

Dam: Multi VP Rated Svawill Man
***JLPP CLEAR
HD 7:3
ED 0:0


Lu Lu's name suited her from day one, there will never be another Lu Lu like her.

Lu Lu is a medium-small sized harmonious female who is very compact and well balanced. She has a beautiful strong yet feminine head piece, with an excellent stop and strong muzzle which shows amazing expression. She has excellent front and rear angulations and a super fore chest. She is very well muscled all over with very good reach and drive and has an amazing temperament that captivates you as soon as she enters the ring.

Lu Lu is just larger than life itself with such a charismatic personality that is infectious. She has become quite the celebrity inside and outside of the ring with her hilarious behaviour which people find very entertaining. Lu Lu has earned the nickname of 'Pocket Rocket' for obvious reasons and many others to date.


Lu Lu is my first show Rottweiler after 25 years of owning the breed and she has taught us so much. She will always be our pet first and show/working dog last.

She loves birds, butterflies and her squeaky chooky or anything that moves actually. She is wonderful with kids and adores my niece Jena. Did l mention shadows?

Lu Lu has been extremely successful in the Specialty Show ring with a Runner Up Best Exhibit In Specialty Show(with 190 entries)under Judge Mr Alfredo Estrada-Santiago(FCI Mexico)at the RCV show in March 2012. She has amassed Multi V1's, V's and a VP1. She attained her 10 V ratings with 5 being V1's in 11 shows in a row all at just over the age of two. She now has 15 V ratings. Ironically Lu Lu came RUBISS to the Sire of her first litter, Multi BISS, Multi RUBISS Dual Ch (T) Ubersein Veni Vidi Vici RN TSDX aka Judd.

This girl looks great, but can also work, something that is lacking in our breed today.


2014 saw Lu Lu excel in tracking, gaining her Tracking Dog Title in just four trials and she is now up to her Test 6, which will make her a Dual Ch (T) in tracking.

2014 also saw Lu Lu pass her National Rottweiler Council of Australia Breed Survey, making her an NRC(A)Champion.

2015 will see Lu Lu continue her success in tracking and gain her Tracking Dog Champion Title, which will then enable her to start her Track and Search(Urban Tracking).

Lu Lu will still be entered in some specialty shows and the odd all breeds show in 2015 and we know she will not disappoint.


This girl continues to amaze us, give her a job and she will do it.

we look forward to what our beautiful girl Lu Lu will do in 2015.

Date of Birth - 31 May 2010

Sire

Multi V Rated,
Svawill Logan

Sire

Multi V Rated,
Rakaaz Kiss This, C.D








Sire

V Rated, Rakaaz Hunter


Sire
NRCA & Dual Ch (T) Goodiesway Basko (A) (AI) CDX ET


Dam

Multi V Rated Aust Ch
Rakaaz Nara Finesse (A) ET


Dam

Dual. Ch. (T)
Rakaaz Nara Flynn C.D. E.T.



Sire

Aust Ch Westobri Dufro Naru


Dam

Dual Ch (T)
Jahzorn Brilliant N Blue (A) CDX



Dam

Multi V Rated,
Hegestrauch Lunja



Sire

Zion From House Hertog
(Imp Swe)


Sire

DT. VDH-CH.
Akino von der Lauterbrucke
SchH/VPG III, AD BH IPO III Gek.b.Eza
ADRK 97842 HD- ED+


Dam

International Champion, Belgian Champion, Such, Uris van de Reyngaard, IPO1, s-54431
HD-A ED-1-1

Dam

Svawill Gretel

Sire

Multi V rated,
New Zealand Champion, Australian Champion,
Don-Guan v't Detoricahof (Imp NDL)
HD 2.1, ED 0.0,
Eye and Mouth Cert.


Dam
Multi V1,
2002 - Youth Winner - Jugen Bester Cacib Graz Austria
2003, N.S.W State Siegerin,
Aika von der Alten Festung (Imp Croatia)

Dam

Svawill Mani

Sire

NRCA Champion & Australian Champion
Hanbar Wizard (Imp UK)



Sire

Multi-V1 DT. VDH-CH
Janosch von der Scherau
SchH/VPGIII, IPOIII, AK: BH, AD, ZTP, HD-ED+



Sire
Rex vom Hause Frick
SchH3, AD, BH, IPO3, Gekort B.,
HD- ED-




Dam
DT/ VDH - Champion,
Gesa von der Scherau
SchH3, AD, BH, IPO3,
HD+/-, ED +



Dam

English Champion,
Hanbar Nula (UK)






Sire
English Champion,
Kiko Jailbirds Mra-Zus at Gamegards

Dam
English Champion,
Schutzer Valhalla at Hanbar

Dam

Multi V Rated,
Freni Vom Hause Edelstein (IMP HRV)

Sire

10 x V1 rated, SLV/SVK Champion Brando Von Kelemen (Serbia)

HD A, ED 0
Young Champion of Serbia, Adult Champion of Serbia


Sire
Flip Crni Lotos



Dam
KSG'96 (Serbia), V1 Yug Champion,
Alexandra v.d. Schwarze Wolke
PRM 2 x CAC, R. CAC


Dam

Multi V1,
Zita Haus of Lazic (HRV)
HD Free ED Free


Sire
Big Haus of Lazic

Dam
Golda od Sremcica